This collection of San Francisco Sheriff's Department stars, belt buckles, banners, etc. are from the private collection of retired Undersheriff Carl Koehler, with contibutions from Richard Dyer and Capt. Lisette Adams.
Additional examples of San Francisco Sheriff's stars can be found at PoliceGuide.com.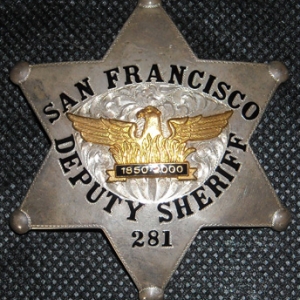 SFSD 150th Anniversary Commemorative Badge. (Ed Jones Company)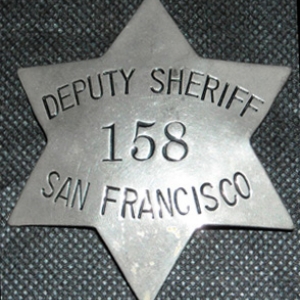 Silver SFSD "pie plate" style badge used circa 1913 until the 1930's. (Renninger)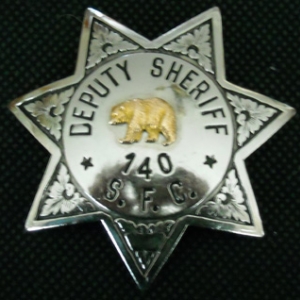 Silver transitional star, with "walking bear" and S.F.C. ("San Francisco County"), late 1950s. (Irvine & Jachen)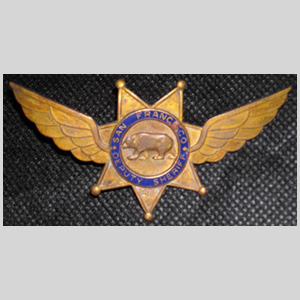 Sheriff's Air Squadron hat badge (wings).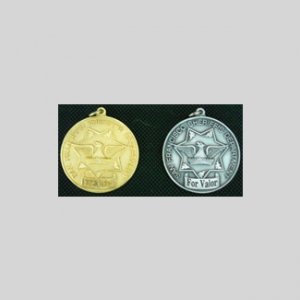 Current SFSD Sheriff's Commendations: silver and gold medals of valor.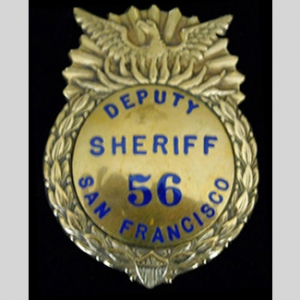 1906 earthquake era San Francisco Deputy Sheriff shield with phoenix rising from the flames. Symbolic of the City rebuilding after major fires in 1850's and 1860's.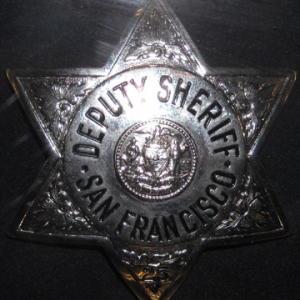 Silver transitional SFSD star, early 1950s. (Irvine & Jachen)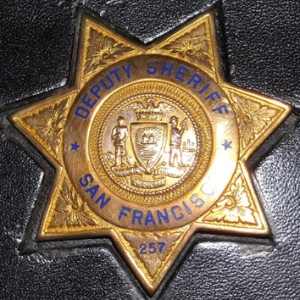 Minature SFSD Sheriff's star with large City seal, in leather case. Early 1960s, no markings.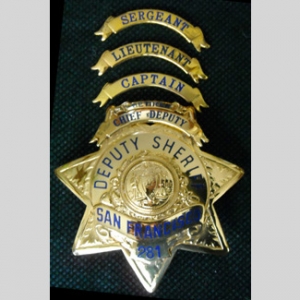 Current SFSD Deputy Sheriff star, with Chief Deputy, Captain, Lieutenant, and Sergeant ribbons. (Irvine & Jachen)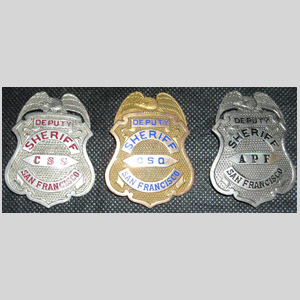 Sheriff William J. Fitzgerald "shields", circa 1928-1935. Three types: silver w/black lettering, silver w/red lettering, brass w/blue enamel lettering. (Samuels Jewelers)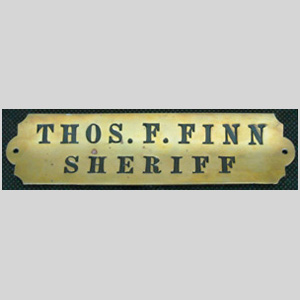 Brass door plate from Sheriff Thomas F. Finn (1910-11, 1916-27).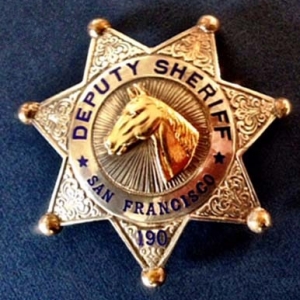 Sheriff's Posse star -- primarily a ceremonial SFSD auxiliary group made up of volunteers who ride and own horses.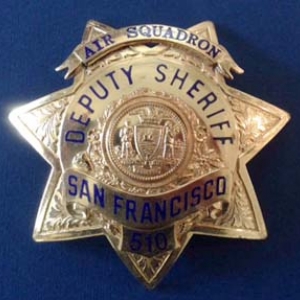 Sheriff's Air Squadron - an SFSD auxiliary group made up of volunteers who own air craft. Used operationally by SFSD for aerial observation missions.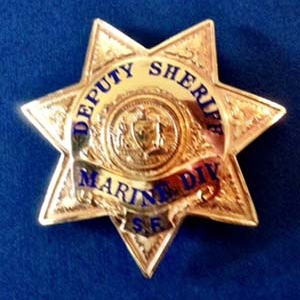 Sheriff's Marine Division - a now defunct SFSD auxiliary unit created in the 1950's for the ceremonial greeting of military and passenger ships docking in San Francisco.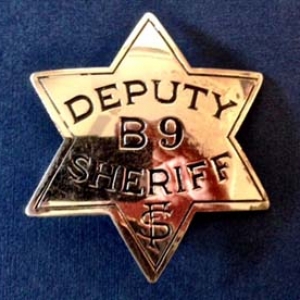 1920's era SFSD Deputy Sheriff's badge made by Renninger & Co., the same company that made the "pie plate" style badges in the early 1900's.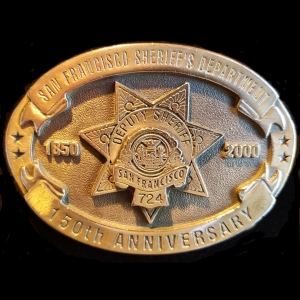 Sheriff's Department 150th anniversary belt buckle (1850-2000). Made of sterling silver with engraved badge number on front, and engraving on the back with the deputy's name and the issue number.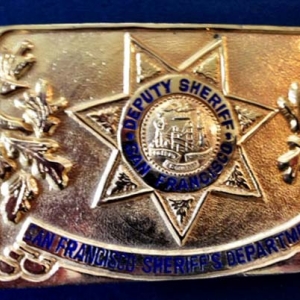 1980's "dress" buckle, worn on the belt of the "dress" uniform.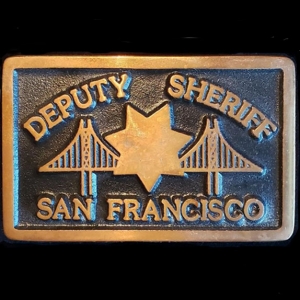 1970's-1980s Deputy Sheriff's buckle, with the Golden Gate bridge and star with space for an engraved star number.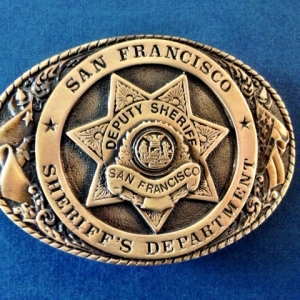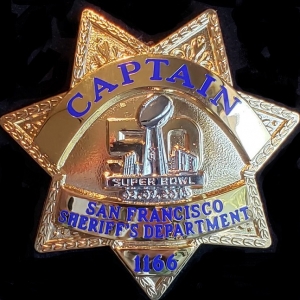 2016 50th anniversary commemorative Super Bowl SFSD star (game played at SF 49ers Levi's Stadium, Santa Clara, CA).